"When Anne is on stage, you think she was born with the violin."
Dr. Matthew Werley (Richard Strauss Institut Salzburg).
Anne Friederike Greuner received her first violin lessons at the age of four. During her studies at the HfMT Hamburg in the class of Prof. Christoph Schickedanz, the Berlin native deepened her musical expression and perfected her technical sovereignty.
During her master's studies at the Salzburg Mozarteum in the class of Prof. Benjamin Schmid and Prof. Esther Hoppe, she impressed in various projects as soloist, concertmaster and in chamber music functions.
Through master classes with personalities such as Ingolf Turban, Shmuel Ashkenasi, Ulf Hoelscher, Tanja Becker-Bender, William Coleman and Meesun Hong, she constantly gained new musical impulses.
Anne Friederike Greuner made her debut with the Hamburg Camerata in 2014 and has won many prizes at competitions in Germany and abroad. Since then, the sought-after musician has performed regularly in various formations.
Since the beginning of her studies, Anne Friederike Greuner has been a scholarship holder of the Deutschlandstipendium, the Karl-und-Else-Wilke Foundation and the Oscar-und-Vera-Ritter Foundation. Her studies in Austria were made possible by a DAAD scholarship.
Anne Friederike Greuner is currently 2nd concertmaster at the philharmonic Staatstheater Mainz.
She plays a violin by Johannes Cuypers from 1785.
Press release CV (detailed) I Press release CV (short)
*This biography is to be reproduced without any changes, omissions or additions, unless expressly authorized by the artist.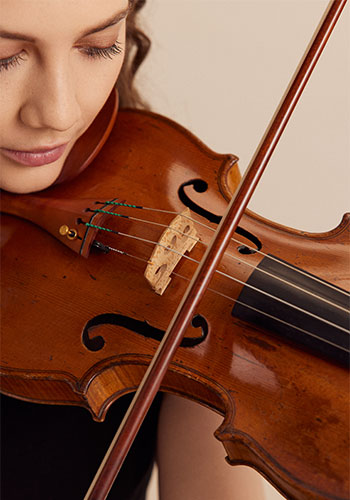 "Anne Friederike Greuner's playing is characterized by a very personal, luminous beauty of tone. (…) At the same time, her creative ability is characterized by natural musicality, great intelligence and extraordinary maturity (…)"
Tanja Becker-Bender
Get detaillier information on all events of Anne Friederike Greuner during the current Saison 2022/23.